Managing a Crisis
JULY 19, 2017
Syblon Reid, LIUNA Local 185 Show Power of Teamwork on Oroville Dam Emergency Project
In the western foothills of the Sierra Nevada mountains in Northern California's Butte County, the tallest earthen dam structure in the U.S. – Oroville Dam – soars 770-feet high, offering a birds-eye view of the surrounding area as far as the eye can see. Directly behind it lies the picturesque expanse of Lake Oroville, California's second largest manmade reservoir. Impounded by the dam and fed by the Feather River watershed, the lake is capable of storing over 3.5 million acre feet of water and supplies an estimated 23 million Californians with drinking water and irrigation water to nearly one million acres of farmland.
Together, Oroville Dam, Lake Oroville and the adjacent Edward Hyatt Hydroelectric Powerplant represent a key component of the California State Water Project. They provide critical flood control, water storage, recreation, hydroelectric power generation and water quality improvements for the Sacramento-San Joaquin River Delta region.
Until recently, perhaps the most noticeable daily occurrences in this otherwise bucolic location were the churning turbines at Hyatt Powerplant converting water into clean, usable power; the roar of water cascading over Oroville Dam's flood control spillway; and perhaps the coming and going of visitors eager to explore the lake's abundant and diverse recreational offerings.
Since mid-February, however, there has been a whole different type of activity taking place at the Oroville Dam. It involves the nonstop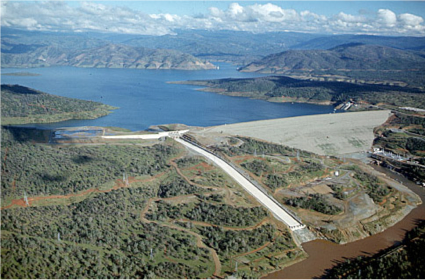 Oroville Dam and Lake, prior to failure of the spillway. Photo courtesy of CA Department of Water Resources.
movement of heavy construction equipment, trucks and helicopters hauling materials on and off site and the buzz of dozens of construction crews working around-the-clock. Their mission: to complete an emergency repair project to Oroville Dam's flood control and emergency spillways, restore the power plant to operation, and strengthen the flood control spillway structure enough so that a longer-term fix can be put in place before next season's rains.
Project owner the Department of Water Resources (DWR) contracted with general engineering contractor Syblon Reid Construction to take on the emergency job. Syblon Reid in turn contracted with a host of additional subcontractors and material suppliers, and working together along with local craftspeople – including dozens from Laborers Local 185 – the entire team delivered a project that is a testament to
the can-do spirit and know-how of the construction industry and the strength of the local labor pool. It illustrates what can be accomplished when a coordinated team of well-qualified contractors, backed by a capable, trained local workforce, work together to achieve a common goal.
A Call To Action
The Oroville Dam emergency project became a necessity in early February, when inspectors with the Department of Water Resources (DWR) first noticed damage to the flood control spillway at Oroville Dam. Weeks of record-setting rainfall had taken their toll, filling Lake Oroville to capacity and requiring significant releases of water from the flood control spillway into the Feather River below.
The DWR knew they needed a contractor that could be counted on in an emergency – one they had worked with many times before and that could handle a project this fluid and complex. They reached out to Syblon Reid Construction Company for help. The Folsom-based contractor has a long track record completing projects for the DWR and many other public owners and is known for its quality work throughout the west. It takes pride in its logo: "Providing solutions to difficult projects."
Syblon Reid's Vice President and Operations Manager, Spencer Frederickson, received the call from DWR at 6 p.m. Monday evening, February 6th, to mobilize a team to provide an analysis and recommendation for repair on the hole that had developed on the flood control spillway. "Syblon Reid had staff onsite within two hours, and have been working there 24/7 ever since February 7th," Frederickson said.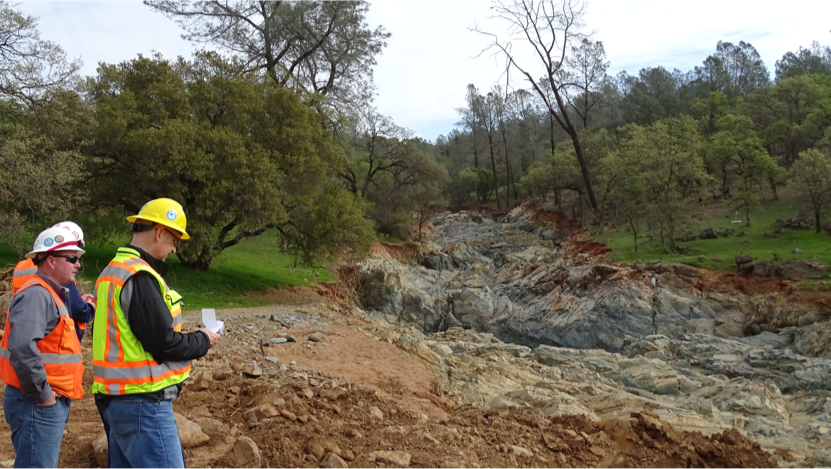 Syblon Reid Senior Manager Will Scott, on left, and Industrial Relations Manager Bill Koponen survey the aftermath of the erosion caused by use of the emergency spillway.
Will Scott, a Senior Manager for Syblon Reid, was appointed jobsite manager of the emergency repair operation at Oroville Dam. Under his direction, Syblon Reid has orchestrated a highly complex, dynamic emergency repair effort involving many moving parts and up to 500 total individuals onsite at peak construction, ranging from DWR officials and inspectors to contractors and subcontractor personnel and the many craftspersons and laborers who physically put the work in place.
Tackling a Difficult Job
In the early days and weeks of the project, a variety of events and challenges expanded the repair effort and made completion a moving target, requiring constant flexibility and the ability to devise new solutions quickly. As Syblon Reid mobilized on site, they initially developed a plan to bring rock and concrete in to fill the hole in the flood control spillway, with the hope that the auxiliary (emergency) spillway would not need to be used. As the rain continued to pound the area over the next few days and the lake level continued to rise